Individuals looking for a home mortgage in Charleston, SC and across the low country need to be aware of the impact that Flood Zones have on obtaining financing. Below is a guide prepared to explain the different zones and what they mean. (Thanks to Tom at: GoPremierOne.com for this information)
The zone designations shown on the "FIRMs" are defined below.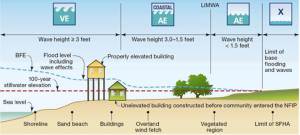 Zone A
Zone A is the flood insurance rate zone used for 1-percent-annual-chance (base flood) floodplains that are determined for the Flood Insurance Study (FIS) by approximate methods of analysis. Because detailed hydraulic analyses are not performed for such areas, no Base Flood Elevations (BFEs) or depths are shown in this zone. Mandatory flood insurance purchase requirements apply.
Zone AE and A1-A30
Zones AE and A1-A30 are the flood insurance rate zones used for the 1-percent-annual-chance floodplains that are determined for the FIS by detailed methods of analysis. In most instances, BFEs derived from the detailed hydraulic analyses are shown at selected intervals in this zone. Mandatory flood insurance purchase requirements apply. AE zones are areas of inundation by the 1-percent-annual-chance flood, including areas with the 2-percent wave runup, elevation less than 3.0 feet above the ground, and areas with wave heights less than 3.0 feet. These areas are subdivided into elevation zones with BFEs assigned. The AE zone will generally extend inland to the limit of the 1-percent-annual-chance Stillwater Flood Level (SWEL). (more…)
---